Leading LSA Seller in U.S. Links Up with Major Texas Aviation Enterprise
SOUTH WOODSTOCK, CONN. / January 6, 2012 – Flight Design has appointed US Aviation of Denton, Texas to provide Factory Authorized service for the popular CT series of Light Sport aircraft. The Texas company has been a Rotax Service Center for several years and has more than 20 A&P mechanics on staff. Combined with its FAA 145 Repair Station, US Aviation is a major flight school with extensive contracts to train foreign flight students.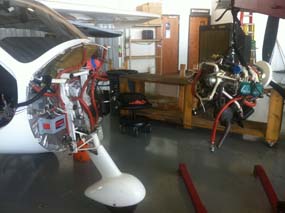 "US Aviation completed CT specific training, and understands the Light-Sport Aircraft industry," commented Tom Peghiny, President of Flight Design USA. "We are happy to join with US Aviation to have them better support our customers in the South-central US."
"US Aviation Sport Planes is open seven days a week, has over 30,000 square feet of climate controlled maintenance hangars, and is outside the DFW Class B airspace," said Scott Severen, Director of Business Development at US Aviation. "We often provide return flights for customers bringing their aircraft in for service. We are making it very convenient to do have service done." Denton Airport is on the north-west portion of Dallas Ft Worth.
Beside providing routine services such as oil changes and conditional inspections, US Aviation can also perform major repairs, often saving the headaches of returning an aircraft to the factory. Easier access to service will ultimately reduce insurance premiums due to lower repair costs, the company believes.
US Aviation provides "Everything Light Sport," along with single-engine, multi-engine, and turbine maintenance services through its FAA 145 Repair Station U9FR750K, and a Light-Sport-friendly full service executive FBO that offers exceptional amenities at Denton KDTO Airport in Denton, Texas. For more information on Flight Design services, contact Scott Severen at US Aviation lsa@usaviation.aero, 940-297-6446 or visit www.ussportplanes.com
FACTS ABOUT FLIGHT DESIGN GmbH
Flight Design is a 24-year-old manufacturer based in Germany. The company remains the worldwide Light-Sport Aircraft market leader thanks to its popular CT series of aircraft. More than 1,700 of these aircraft are flying in 39 countries. One of the first aircraft certified under ASTM International standards in 2005, the CT ("composite technology") remains the top-selling LSA in America through six consecutive years. Flight Design sold the first LSA to India and was the first LSA to earn Chinese Type Design Approval. Three times a CT has been flown around the world. In 2011, the German company unveiled its C4 four seat aircraft based on the CT technology.