AOPA in Palm Springs is always a well attended event for Flight Design and the sales team. The show was held October 11-13 and is the last big event of 2012 where we had a CTLS aircraft and the C4 mock up on display. There was good interest and  we think airplane buyers are looking hard at our new airplanes.
Watch for us in 2013 when we will be celebrating 25 Years of Flight Design.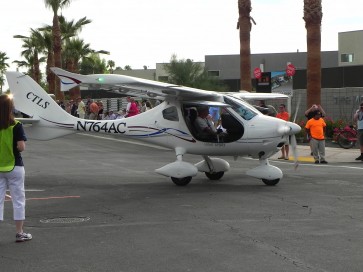 We had a lot of interest in the C4 as well as a strong presence in the local Paper.
We thank Owner Adam Coffey for letting us use his beautiful plane as the "show" aircraft.
http://www.mydesert.com/apps/pbcs.dll/article?AID=2012310100042&nclick_check=1
We had a great time watching the crowds and the time seemed to fly working at the show.  During this show we were getting our first CTLSi ready for delivery and we had technicians from our Distributors and Factory making sure that the new planes will be ready to go.