October 25, 2012 – Tulsa, OK
The Northeastern Oklahoma – Tulsa Crime Commission hosted its annual Badges-n-Barbeques, Guns and Hoses Battle of the Grills, fund raiser. The annual event draws hundreds of people where the Tulsa area Fire Departments, Police Departments and Sheriff's Offices  fire up their grills and smokers to compete to be the  best  in this  annual barbecue competition.
The  Crime Commission's event sometimes called the  "annual hangar party"  is held at Tulsa's Jones/Riverside Airport (KRVS), this year was at the Christiansen Aviation Jet Center.  Along with the  good food and live entertainment, fire apparatuses and law enforcement specialty vehicles the Flight Design CTLE  aircraft was placed on static display for this event.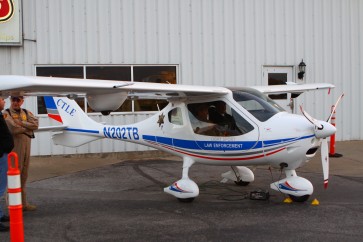 The Flight Design CTLE "Talking Bird" (Call sign RAVEN-1) was provided by Echo Flight Resources of Tulsa. That specially outfitted LSA aircraft is flown for the Tulsa County Sheriff's Office in support of  the Tulsa regional aviation enforcement program. The plane  was specifically requested to be at this event to display its state of the art efficent design, its high tech but cost effective, capabilities of the advanced camera. The system has recording, mapping, and effective down-link systems in an economically advantageous package.
Many were very impressed with the safety features of a  low stall speed, quiet low altitude capabilty,  A Kevlar Safety Cell for the pilots and officers, a whole Airplane parachute, visual traffic avoidance radar display of other aircraft which are standard in all the CTLE  aircraft.