February 1, 2016                                                                                                                          
FOR IMMEDIATE RELEASE

FLIGHT DESIGN USA SECURES SECOND-SOURCE PRODUCTION
U.S.-Based Company Inks Production Agreement with AeroJones Aviation
South Woodstock, CONNECTICUT / February 1, 2016 — Longtime Light-Sport Aircraft American market leader, Flight Design USA, has contracted for a second source of completed airframes for import into America. Aircraft availability for new customers will benefit from this new arrangement.
Flight Design USA signed a production and distribution agreement with AeroJones Aviation of Taichung, Taiwan to supply Flight Design aircraft and spare parts for the USA. AeroJones is a licensee for the CTLS and CTLSi series with Flight Design of Germany.
"We are pleased to work in close coordination with AeroJones to bring more Flight Design airplanes into the USA," said Tom Peghiny, President of Flight Design USA. "We have not been able to get enough airplanes to meet demand for nearly two years, however, that situation is now remedied and we will be getting our first planes delivered in March of this year."
"Our focus has been on airworthiness, sales, and support and this goal matches perfectly with AeroJones' approved production ability," said Peghiny. "I have several times visited their facility located in Xiamen, across the Strait of Taiwan from their corporate headquarters, and it is a highly professional operation." He observed that all production processes are done under one roof and in-house production equipment includes 5-axis CNC machinery, water and laser cutters, welding, and composite layup.
AeroJones Aviation has been producing the CTLS series for primarily the Southeast Asian market and has been working with Flight Design for more than two years during the technology transfer process. The program included production-worker training, quality-management training and the gradual build up to finished airplanes, which occurred in summer of 2015. AeroJones has been licensed by Flight Design GmbH to do all fabrication and assembly work needed to serially build CTLS aircraft to ASTM standards.
"We are very pleased to be working with Flight Design USA. They have been a leader in the American LSA market since the beginning and their reputation for customer support is well known," said AeroJones Aviation Vice Executive President, Chi-Tai Hsieh.
The process of approving AeroJones' facility, production equipment, and personnel has been managed and audited by staff from both Germany and Ukraine where Flight Design continues the original production line for the their aircraft. AeroJones' production facility has passed numerous audits including the awarding of a Production Certificate by the Chinese CAAC at the end of last year (certificate below). A 2015 FAA audit of Flight Design included discussions regarding airplanes from the Xiamen facility coming to the USA.
"We are awaiting three CTLS series aircraft per month for the remainder of this year and expect quick service on parts for the existing fleet as well," added Peghiny. "AeroJones Aviation is also a participant in the four-seat C4 development and we look forward to working with them on that project, too."
FACTS ABOUT FLIGHT DESIGN USA
Flight Design USA was one of the first businesses engaged in the Light-Sport Aircraft segment created by FAA in 2004. The company, headquartered in Connecticut, has popularized the CT series of aircraft so successfully that it continuously held the number-one position in the LSA fleet market share since the new sector was announced. Flight Design USA earned the second-ever acceptance by FAA for its CT series. Flight Design USA played a significant role in aiding AeroJones Aviation to gain Type Design Approval (TDA) for the CTLS in China. The U.S. company also filled an important position in the development of the four seat general aviation aircraft named C4, due on the market in 2017.
Flight Design USA President Tom Peghiny chaired the important Airplane Design & Production committee of ASTM, the international organization that aided the industry when it developed industry consensus standards for Light-Sport Aircraft now accepted in many countries. Peghiny current serves on the General Aviation Joint Steering Committee (GAJSC), which is deeply involved in ensuring safety. He is also a longtime board of directors member for the Light Aircraft Manufacturers Association (LAMA).
•  •  •  •  •
FLIGHT DESIGN USA CONTACT:  Flight Design USA in South Woodstock, Connecticut can be reached at 860-963-7272
860-963-7272 • email: fstar@rcn.com.
PHOTOS — Many high resolution photos of Flight Design aircraft plus other images can be downloaded at: http://FlightDesignUSA.com/media/
Type Design Approval Certificate issued for the Flight Design CTLS by China's CAAC: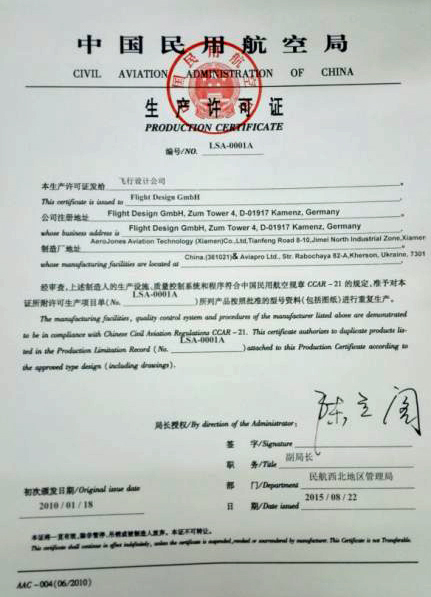 Images of AeroJones Aviation in China …