Flight Design is one of the leading companies in the new age of aviation. You can join the excitement and learn to fly in a brand new Flight Design CTLS at a factory-approved Flight Design Pilot Center.
In conjunction with the issuance of the EASA (European) standards the CTLS flight manual ( AOI) was completely revamped. The new manual has much the same layout as other Part 23 aircraft.
A growing number of flight schools around the USA and the world are ready to offer you a Discovery Flight or an entire course of lessons resulting in you earning the Sport Pilot certificate from the FAA.
You can also order a sport pilot kit from Gleim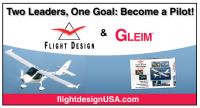 Sport Kit with Test Prep Software
Sport Kit with Test Prep Software and Online Ground School
Flight Training Resources
Document
Download
Date
Syllabus for Transition to a
Flight Design CTLS Light Sport Airplane
Download (PDF 52KB)
Download (DOC 76KB)
2010/02/22
Flight Training Supplement CTLS Rev 3
Download (PDF 172KB)
2009/01/01
Flight Training Supplement CTSW
Download (PDF 140KB)
2009/01/01
Performance CTLS LSA
Supplement to CTLS LSA AOI
Download (PDF 472KB)
2011/06/13
Aircraft Operating Instructions - MC
Download (PDF 5.8MB)
2009/07/10
Aircraft Operating Instructions REv8- CTLS
Download (PDF 2.5MB)
2009/02/05
Aircraft Operating Instructions - CTSW
Download (PDF 1.7MB)
2008/04/29
Flight Design has provided a comprehensive training system for the CT and the MC aircraft. The Student Kit for Flight Design LSA is a proven system that provides the books and supplies you need to help you efficiently and effectively learn how to fly a fixed-wing light-sport aircraft and pass your FAA Knowledge and Practical exams at an exceptional value.
The self-guided home study course helps you prepare before you see an instructor so you progress quicker and more efficiently. It is also used at flight schools as the primary ground and flight training system. The kit is used by the top schools and instructors.
You can order this directly on line or through your Flight designs pilot center.