F2: State of the Lightplane Art
The F2 is the newest aircraft from Flight Design general aviation. One we think will define light aircraft safety, performance and comfort in a CS-23 certified aircraft and as an S-LSA. The F2 brings a fresh look at high-wing light aircraft design with class leading safety features and an innovative Garmin avionic suite.
The spacious 'extra-large' cabin of the F2 has been designed for extra rigidity and incorporates a combination of panel-mounted AMSAFE ™ airbags and an Airframe Emergency Parachute System (AEPS) for your safety. The atmosphere inside the F2 is improved with many clever design features, the modern heating/fresh air system and comfortable leather covered, 2 way-adjustable seating.
A modern aircraft should have all the features seeking to improve performance, situational awareness and reduce the pilot workload. The F2 includes:
*All Garmin avionics, G3X screens for synthetic vision
ADS-B weather, traffic, engine monitoring and maps
*Single lever throttle and brake system
*AMSAFE airbags and inertial-reel seat belts
*No touch fuel system with electric fuel gauges
*DLE outer wing optimized for spin resistance
*Drag reducing sculpted winglets
*Wide composite main gear
*Massive center tunnel for cabin rigidity
*Low drag cowling with easy-to-latch system
*Heat exchanger heating system
*Electric trim and pre-selector flap system.
*Cavernous rear cabin for luggage, bicycles or pets!
Sign up on the Contact us Page to get on the F2-F4 mailing list.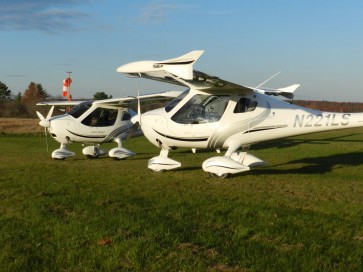 The Flight Design CTLSi is the newest version of the popular CT series optimized for the Light Sport Aircraft rules of the United States. The CTLSi features the Rotax 912is fuel injected engine. Flight Design USA has delivering 56 of the CTLSi with the Rotax 912is since 2012 and the model is the most popular offered. Offered only in "fully loaded" configuration as the CTLSi GT 2020, the CTLSi contains everything a modern aircraft should.
* 100-hp Rotax 912iS with fuel injection -Efficient and modern
* 2000 hour TBO / Auto fuel or Avgas – Long TBO & multi-fuel
* Max speed 120 kts / 974 NM range – Cross country capable
* Dual 10″ Dynon SkyView HDX Screens *W/synthetic vision
* Dynon SV integrated, two-axis digitally-linked autopilot
* Dynon SV-X83 Com, Dynon SV 1090 ES transponder
* Choice of 7″ SV HDX or Garmin 796 MFD, center mounted
* BRS 1350 LSA Full Airframe Parachute System standard
* Whelen LED landing, interior, strobe and position lights
* Standard FAA NextGen 2020 compliant ADS-B "out"
* Electric pitch trim and leather seats standard
Download the CTLS – CTLSi PDF Brochure
CTLSi basic Specifications ›
CTLSi Pricing and Options ›
CTLSi Photos ›
The CTLS comes with the Rotax 912ULS carbureted engine, and more standard features such as coolant and oil thermostats, leather seats, dual Dynon D-700 SkyViews (with backup gauges), and a compliant VFR Night-flight package.
Learn more ›
CTLS Specifications ›
CTLS Pricing and Options ›
CTLS Photos›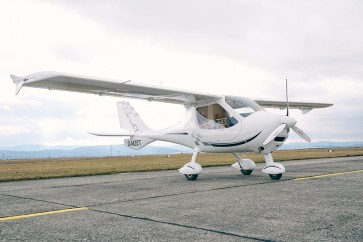 The CT-Super is a lighter and simpler version of the CT one of the most innovative and popular light aircraft in the world. The Super comes equipped with a single 10″ Dynon SkyView EFIS/MFD with Synthetic vision, Dynon SV-X83 com and SV-261 Class one Mode ES Transponder, BRS 6 1350 Airframe parachute system and everything you want for Day-VFR flight. Options available include upgrades to Night Flight and Autopilot W/Level button.
Learn more ›
CT Super Specifications ›
CT Super Pricing and Options›