Flight Design general aviation Warranty Policy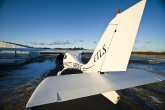 _________________________________________________________________________
This policy document explains and details the Flight Design warranty and return policies.
The Warranty starts from the date of the aircraft delivery to first retail customer: To obtain warranty service the Warranty registration card that was delivered with the plane in the front of the aircraft logbook and the Flight Design Owner Delivery Checklist must be been filled out and sent to Flight Design USA for activation. All warranty coverage is managed by and via the Flight Design Sales outlet responsible for the customer delivery. Warranty repairs done without approval are out of the "network" may not be fully covered.
The Warranty is on the aircraft and is transferable.
What the factory warranty covers— All parts produced and supplied by Flight Design general aviation GmbH . When parts are determined as defective, they will be replaced by the selling Distributor or Service Center selected by that distributor under this warranty protection for 24 Months. The warranty also covers 36 months for the composite airframe structural items. Cosmetics and normal wear are not covered.

24 Month replacement/repair coverage of Flight Design manufactured part and installed items not covered by a separate warranty.
Items like the Rotax Engine (18 months), Neuform Propeller, Dynon Avionics, Whelen lights and strobes, ELT are covered by Original Equipment Manufacturer (OEM) Warranty.
Rotax Service Bulletins will be handled according to Rotax coverage, and are excluded from the XP Warranty.
What the factory warranty does NOT cover — Any and all replacement parts bought from any vendor other than Flight Design GmbH. In addition, non-covered items include: Tires, tire tubes, and batteries which are subject to owner-operator variable use.
Normal service items excluded are brake pads, brake rotors, batteries, tires, oil, oil and air filters, lights and other consumables.
Cosmetic defects are covered for the first year only.
Warranty for exterior paint, graphic appliqués and other cosmetic items is one year.
This warranty does not apply to normal wear and tear nor in instances of neglect or abuse.
Who does the warranty work— Warranty-related work must be done at an authorized Flight Design service center unless special arrangements are otherwise made in advance in writing by the distributor-dealer who sold the plane or Flight DesignUSA.
NOTE: Warranty serviced performed by organizations other than Flight Design distributors, dealers or service centers may be approved for qualified shops and technicians but payment for services or provision of replacement parts will only be authorized if requested in advance and after Flight Design USA issues a written authorization specifying limits of reimbursement.
Applicable warranty period— The warranty period starts when a Flight Design airplane is delivered to the first owner and expires twenty four (24) months from delivery date. Structural items are covered for an additional 12 months. All warranty must be preceded by submission of the Warranty Registration Card and Delivery Checklist by the distributor or dealer.
To begin a warranty claim — Warranty claims must follow these steps:
1— Assure an Warranty Registration Card and Owner Delivery Checklist has been fully completed and submitted to Flight DesignUSA.
2— Customer seeking warranty service must first contact the originating Flight Design distributor, dealer, or service center.
3— Distributor or dealer will determine if the request qualifies for a warranty claim.
4— Distributor or dealer will submit a Flight Design Warranty application form to Flight Design USA for a warranty replacement authorization before beginning any work or informing the customer of such approval.
Process after authorization from Flight Design USA —
1— A credit card must be supplied from either the customer or the distributor prior to parts being shipped or parts will not be shipped. Once a verified credit card is received, the replacement part is shipped to the customer.
2— The correctly filled out warranty form and defective part (if requested) must be returned back to Flight DesignUSAwithin 30 days for a credit or invoice applied to customer's credit card.
3— Parts will be shipped from Flight DesignUSA ground UPS only. If the customer, distributor, dealer, or service center requests faster delivery the requesting party will be billed the difference between the ground shipping charge and the more costly shipping method chosen.
4— The Dealer or Distributor is responsible for getting the return authorization, filling out the warranty form and sending the defective part back to Flight Design USA.
Airtime Aviation
Airtime Aviation Inc
8505 S. Elwood Ave. B135
Tulsa, OK. 74132
TEL. 860-963-7272