For Flight Design Aircraft Equipped with Trutrak autopilots:
Recent reports have suggested that there could be a problem with the new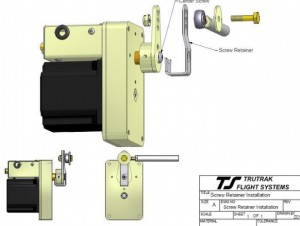 integrated thread-locker servo arm screws that have been sent out for retrofit by
customers in the field. Reports indicate that the screw could back out of its hole
in the end of the servo shaft during normal usage. The suspected cause is residual
chemical thread-locker in the threads of the servo shaft which was the previous
method for locking the arm screws in place.
Trutrak Flight Systems will include the bracket with all new servos shipped with the current servo arm screw. This bracket will also be available to all customers with the current servo arm screw configuration as a field retrofit solution.