The Flight Design MC is the latest aircraft from the talented engineers of Flight Design. Created to complement the LSA sales leading CTLS, the MC offers true utility and performance in a rugged metal airframe. Constructed from Aluminum, steel and composites, the MC features a steel space frame, all aluminum flying surfaces and a composite cabin and cowling.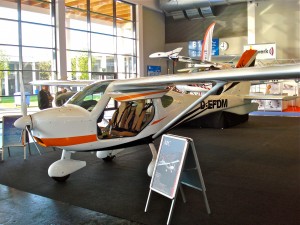 Flight Design has maximized the performance envelope available for Light Sport aircraft with the everpopular CTsw and the class leading CTLS, so our focus with the MC is to provide more utility with a truly giant cabin and easy-to-maintain modular construction.
Designed with training and commercial fleet uses in mind, the MC is also the right choice for the pilot or flying club that wants the unique configuration that makes Flight Design aircraft so popular. Excellent visibility, spacious baggage area and easy cabin entry are features that will help make the MC a favorite choice as well. To attract younger customers, you need to offer the latest technology in a modern affordable aircraft. To make your school or flying club more successful, you need to bring down the cost of learning to fly, while preserving your bottom line. The MC can help with its fuel efficient Rotax powerplant and simple, low maintenance airframe.
The metal flying surfaces of the MC are buck riveted and corrosion proofed for many hours of maintenance free flying. The massive steel pilot cage is covered with easy-to-remove composite shells to allow quick access to the engine, landing gear and controls for annual or 100 hour inspections. The main landing gear is the Flight Design no-bounce composite gear introduced on the CTLS. Strong and maintenance free, the main gear makes sure the last landing of the day is a happy one.
The large cabin of the MC has a width of nearly 52 inches! The 2-way adjustable seats and extrawide cabin doors makes for easy entrance and a comfortable experience for you and your passenger. The four-point safety harnesses, wing located fuel tanks and the BRS 1350 parachute system are just a few of the well thought out safety features of this state-of-the-art aircraft.